Our one-hour trail rides leave daily on the hour, excluding 12 p.m (noon). You can pre-book or be on the spot and ready to ride (min. age is 5 years)
July and August: 9:00 a.m. to 5:00 p.m.
May, June and September: Usually 10:00 a.m. to 4:00 p.m.
During the early or late seasons, please check with the stables for departure time.
1 Hour ………………………………$50
Leave on the hour June 15 – June 30, July, and August 9am-5pm
Leave on the hour May – June 15, and September 10am-4pm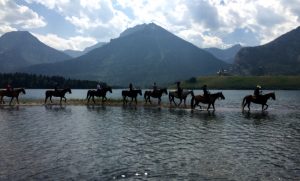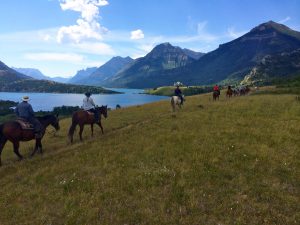 Sparkling lakeshore and wooded meadows OR slight elevation gain in beautiful Waterton Lakes.
1.5 Hours ………………………….. $70
Leave on the hour at 11am, 2pm, and 5pm.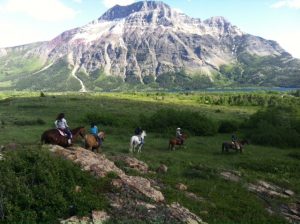 A spectacular combination of the one hour loops.
2 Hour ………………………….. $85
Departures: 9:30 am, 12:30 pm, & 3:30 pm Daily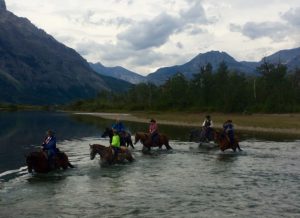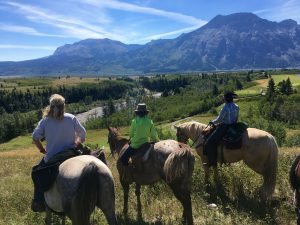 Experience a variety of wildlife habitat as you meander through Aspen forests, reach scenic lookouts, and cross multiple streams. This ride offers a great opportunity to see elk, deer and black bears, and always flowers galore. Moderate elevation gains are experienced, and as such this trail is geared toward those slightly more adventurous.
*Check the stables for daily schedule as 3 and 4 hour rides alternate on demand.*
Prairie Grasslands Ride (Bison Paddock) $120
(3 hours) Departures: 9:30 am & 1:30 pm (By Reservation)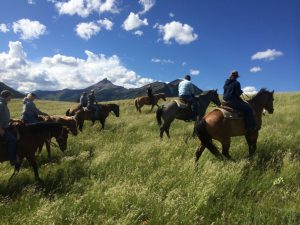 "Where the prairie meets the mountains"
This unique area allows you "off trail" experience in the shadow of the mountains, along the prairie's edge. While riding through the grasslands keep watch for small herds of cow elk and their calves, as well as coyotes and their pups frolicking near their dens. You may also see the Waterton Bison herd as we skirt the paddock.
Vimy Mountain
If the river crossing is "saddle blanket deep", we're on our way to Vimy, usually after early to mid-July, when the spring runoff slows down.
The Lion's Head (half day, approx. 5 hrs) $175
Departures: 9 am & 1:30 pm (By Reservation)
If you want the most spectacular view for the shortest time in the saddle, the Lion's Head is the ride for you. We'll encounter switchbacks as we climb to the first bench of Vimy Mountain in the profile of a lion. There we'll begin a short but challenging hike to an overlook of Middle Wateron Lake.
Vimy Peak (day ride) $240
Departures: 9 am (By Reservation)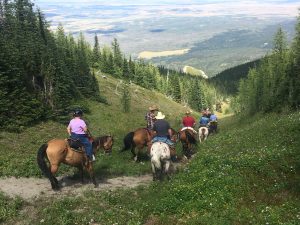 For those seeking a challenge and adventure, look to Vimy Peak. At just under 7,000 feet, this ride offers some of the most spectacular views of Waterton Park.  As we approach the upper tree line the horses are left behind for the final ascent.
This last 500 foot elevation gain is a challenging scramble, but the view and solitude at the peak is
unforgettable.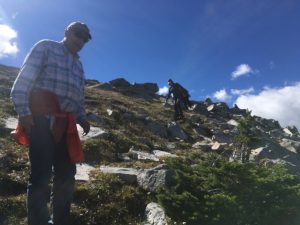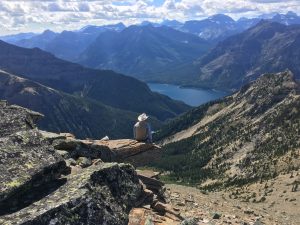 Alderson-Carthew Summit (day ride) $240   **NOT AVAILABLE UNTIL FURTHER NOTICE**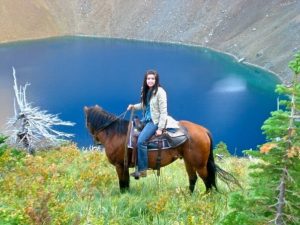 Departure: 9 am (By Reservation)
Many consider this our most spectacular ride! This full day adventure takes us above Cameron Falls, into Alderson Lake, past waterfalls and Carthew Lakes. Then climbing the summit ridge, we'll see miles and miles of mountain splendor. Our trip ends at Cameron Lake where the trailer awaits. This trail is not for the faint of heart, as open scree slopes and extreme altitudes await!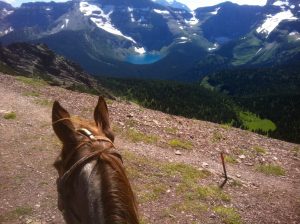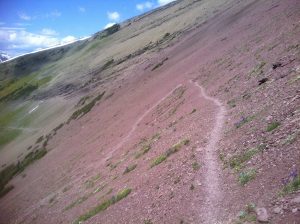 Bertha Falls (3.5 hour)   **NOT AVAILABLE UNTIL FURTHER NOTICE**
Bertha Lake (6.5 hour)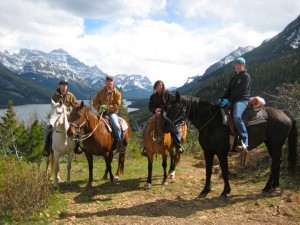 Travel past a cascading waterfall or continue to climb to crystal blue sub-alpine lake. On the way, catch views down Waterton Lake.
This popular hiking trail is closed to horse traffic during the peak season. Only available Monday – Friday, May, June, and September.
Horseshoe-Oil Basin (day ride) $240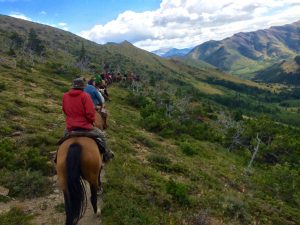 Departure: 9 am (By Reservation)
This loop trail follows the prairie grasslands to a scenic outlook from Bellvue Hill, then cuts back into the virtually untouched backcountry of Horseshoe Basin.
After breaking for lunch, we'll crest the ridge and descend into Oil Basin, and follow the National Park boundary back on to the grasslands.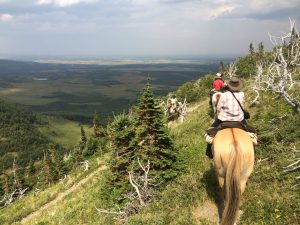 Red Rock Canyon Departures (day rides) $240  
**NOT AVAILABLE UNTIL FURTHER NOTICE**
Departure: 9 am (By Reservation)
Several day rides leading to high mountain lakes and ridges.
Avion Ridge
Twin Lakes Loop
Goat Lake
Lone Lake
Group rates, We can accommodate groups of 15 to groups of 100 or more. Call us with your plans and we can help you.
Our 50 horses are mostly seasoned stock horses from the neighbouring ranches, handle well and are willing. We take pride in matching the right horse with the right rider, you'll have a great ride.
Bring a jacket in case the weather changes, and wearing long pants and shoes (rather than sandals) will help you in the saddle. Don't forget your camera!
Our range of saddle stock is suitable for beginners and experienced riders and we have small saddles for small cowboys and cowgirls.
Some of our favorite trails take you above the golf course, by lakes and atop hills, giving you a fabulous view of the Waterton valley.
Meanwhile, back at the ranch, we have pop and refreshments available to quench your thirst after you get off the trail.
For more information on our Waterton Glacier Nation Park camping and all of our Waterton Family Vacations please call (403) 859-2462